Over the years I have built up a fair collection of 35mm camera equipment. For many years I stuck with Pentax cameras although I do have a Canon EOS 1000FN and a couple of Canon lenses.
Whilst I still have the Canon EOS 1000 and a Pentax MZ7 & an older Pentax SF-7 plus associated lenses, I use digital now almost exclusively. My first digital camera was a Casio QV-8000SX, a marvellous little camera with a massive (then) 1.2megapixel resolution.
I then bought a Fuji Finepix S5000, again, a cracking little camera for the money & three times the resolution. I still use it as a backup.
My current equipment consists of the Canon 20d 8.2 megapixel resolution digital SLR, which I got in November 2005.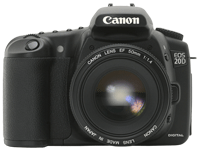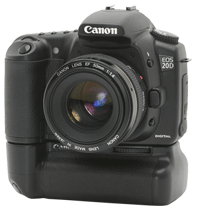 I use the battery grip which provides for two batteries and also has camera controls which assist when taking vertical shots.
The camera comes with an 18-55mm zoom lens which is pretty basic but does the job.
My main lens is the Canon EF 100-400mm f4.5-5.6L IS USM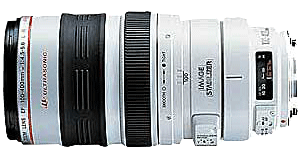 This lens has an Image Stabiliser mechanism which helps to keep the camera & lens steady when taking shots. When fully extended it looks like this:

I've replaced the 18-55mm Canon kit lens with the
Sigma 18-50 mm F2.8 DC EX Lens
, which maintains a maximum aperture of f2.8 throughout the zoom range and is of a much higher quality than the cheap kit lens that comes with the camera.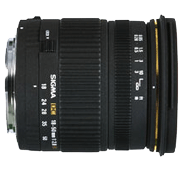 I have recently bought a
Tamron SP AF90mm F/2.8 Di Macro
lens which is a great performer for close up & portrait shots.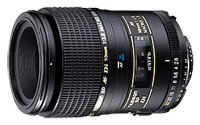 I also have a
Sigma 50-500mm f4-6.3 EX DG/HSM
zoom lens.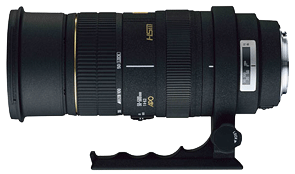 My most recent acquisition is a
Sigma 10-20mm F4-5.6 EX DC HSM
ultra wide angle lens.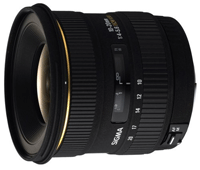 The rest of my equipment consists of:
Canon 300D Digital SLR (backup camera)
Canon EF 24mm 2.8 wide angle lens
Canon EF 100-300mm 4.5-5.6 zoom lens
Sigma EF-500 DG Super Flashgun
Kingston & Sandisk Extreme II & III Compact Flash Memory
Vosonic Xs-Drive 2XL - 40GB portable storage device
Manfrotto 055ProB Tripod with R322 Grip Head
Manfrotto 486RC2 Monopod